Custom Works Test Vehicle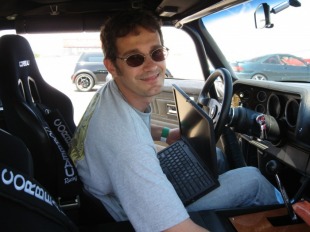 Keith Downloading some data after a track session. Likely he was replying to threads on NastyZ28.com ! Our test car has a 8 point roll cage, race harnesses, and Corbeau seats, with full interior intact. The 71 was featured in camaro Performers Magazine in 2013, and has been seen in Car Craft, Chevy Hi-Performance, and Good guys Gazette.
---
Our 71 Z28 Specs
Our new motor was built by Putney's Custom machine in Chico Ca.
www.putneyscustommachine.com
Jim Putney has 20 years experience in building high quality engines. Our new engine features a lightweight Eagle forged rotating assembly, Erson Hyd. roller cam, Jesel shaft rockers, and Airflow Research 195 heads. Motor should be good for 550hp.
Car is currently in action. It features our coilover conversion front kit, Comp rear leafs, adjustable front and rear sway bars, AFCO double adjustable aluminum shocks, our adjustable upper arms, Our "Big Brake" kits front and rear. Vintage wheel Works 18x9.5" V40 wheels and Nitto NT-05 Rubber. All these parts are available for you. We have no secret or magic parts hidden on this car. The car weighs in at 3310 lbs. Our exhaust is Pypes 3" system with Hooker Super Comp headers.