Special Events- We were there
Come see where we will be next- we are now posting all updates on our Facebook page click below to see our post where we will be next!
2012 Run To The Coast
Durham Car show /09/11 Durham, Ca
The Custom Works Camaro made it out on its maiden voyage and first event in nearly 2.5 years! I assure you the hood will be on soon!
Sonoma Historic Races- Infineon Raceway
6/5/2011
Keith worked on the Tech inspection crew for the event. It was a great opportunity to really check out some amazing vintage race cars.
Thunder Hill Raceway Willows, Ca March 2011
Driving Mike Jameson's 71 Z28 @ Thunder Hill raceway in Willows Ca. The car features our C5 brake kit and GT suspension. The car was fast and predictable, We ran Nitto rubber
2011 Grand National Roadster Show Pomona Ca.
Custom Works provided some carbon fiber work to Steve Strope of PureVisions for their newest project, a 1972 Camaro. The car was featured at the Roadster show in its early stages of creation. The car is expected to be completed for the 2012 show, and should look like the rendering below.
Custom Works featured in Petersen Automoive museum exhibit 2010
A pair of our carbon fiber bumperetttes were feature in a composites material exhibit at the Petersen Automotive museum in LA. The exhibit allowed the viewers to handle the composite parts and compare them to their steel counterpart.
Optima Street Car Challenge 2010, Pahrump NV
Custom Works was on hand for this excitiong event. The field featured 50 Cars. All the major manufacturers were well represented. The top ten finishing cars were some of the best prepared vehicles, with experienced drivers. Mark Stielow was the events overall winner. The field featured a wide range of cars, trucks, street rods, and imorts, yes imports. There were many 2nd gens on hand as well. The event went smooth with no major breakage, and only a few close call, especially Polly in his bad Black 3rd gen Camaro, this guys is nuts!
SEMA Show 2010 Las Vegas!
The SEMA show this year was bigger than expected. No major innovations were discoverd by us, but it was nice to speak with old time business associates, as well as meeting potential new contacts in the industry. And the Women, apparently our in house photographer James Butler didn't miss a single one!
Pinks All-Out Sonoma, Ca 9/18/10
Custom Works would like to thank Pinks Cast member Brian Bassone for the Crew Passes, which granted us access to everywhere. We spent most of the time trackside. We had several customers in attendance, and the 2nd gen community was very well represented. I must say Rich and the entire crew work their tails off to make this a fun, fair, and exciting event. No one went home unhappy, and one guy won $10,000 click photo for larger image
June 26-27 June Jam- Trinity Touring Club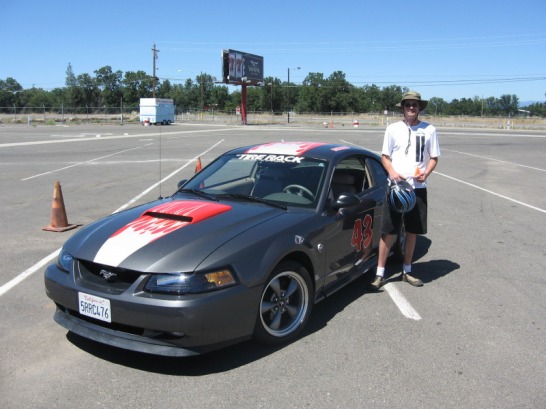 Custom Works would like to thank Holly and Rick Graham for letting Keith drive their Mustang GT at the June 27th autocross event put on by the Trinity Touring Club. Keith finished first in Street Modified (SM) behind the wheel of a FORD... but don't tell anyone!
---
Goodguys Show and Autocross June 5-6 Pleasanton CA.
Keith gets in line to run Mike Jamesons 1971 Z28 on the autocross. The car performed flawlessly, and as always great fun to drive. Thanks Mike, Rodney, and Albert for allowing me to "test" their cars!
---
Trinity Touring Club- Season Opener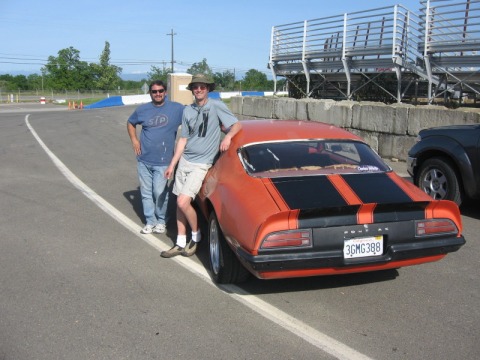 Season Opener at the Trinity Touring Club Autocross in Anderson, Ca. 4/25 Keith with Mike Williams competing in an almost completely stock 1970 Formula 400, this was a good test of how good our products really perform. This car needs some help from our GT kit!
---
SEMA PRO-TOURING.COM DINNER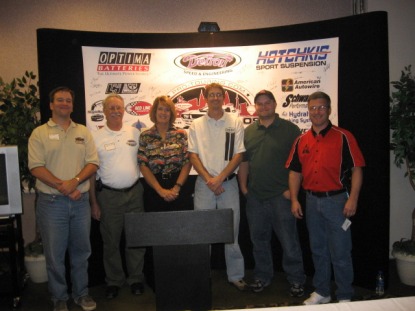 Scott, Dave & Mary Pozzi, Keith Smith, James Butler, Dave from PTFB at the 2009 Pro-touring.com SEMA Dinner
---
Custom Works @ SEMA 2009
Top left: Keith getting Mary Pozzi's autograph. Lingenfelters rendition of a 70 Trans Am- I bet GM wishes they could have done that well! Alberts 2 2nd gens from CANADA. A bandit version of the 2010, still better than GM did! Keith and Dave from PTFB by Ty's Firebird. Oh yeah, Keith getting an autograph from mary Pozzi
Product Testing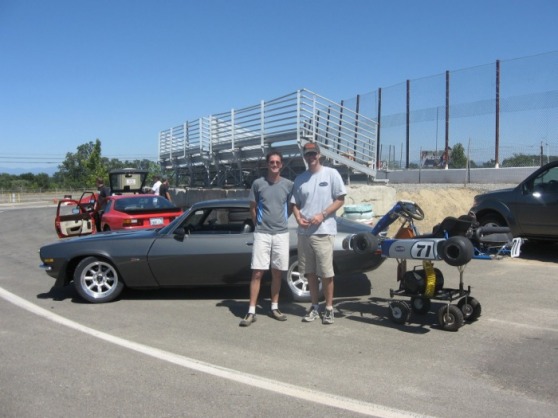 Showing Mike the ropes at the Trinity Touring Club Autocross. Mike finished 2nd in Class first time out, while Keith took took top time of the day honors piloting the Kart
---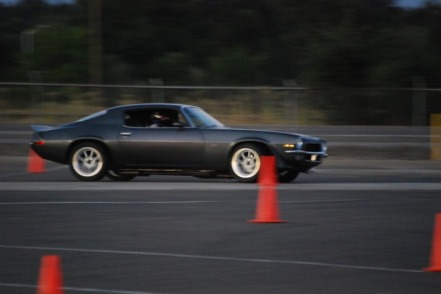 We took a near stock 71 Z28, added our GT suspension kit, along with some Vintage wheel works wheels and Kuhmo rubber, and made it an awesome beast! Watch as we transform Mike's car into heck of a car. Thanks for letting me drive it!
---
Nor Cal Racers Club- Thunder Hill Race Park Willows, Ca.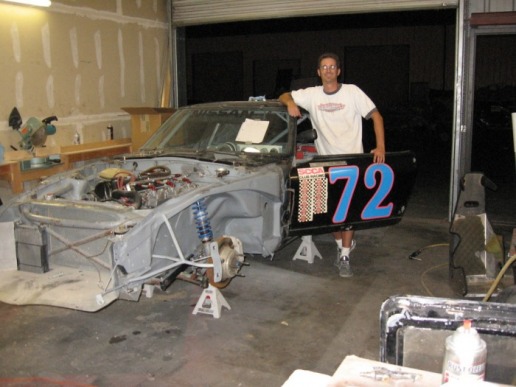 We spent 5 days preparing the Datsun 240Z for its return to competition after nearly 10 years. We made it to the track, and ran 1 session before a clunky trans missed shift ended the day and hurt the motor, yes that makes 2 motors in 2 cars= bad season. Hope 2010 is better. Thanks Steve Silvera for your help in getting the car to the track.
---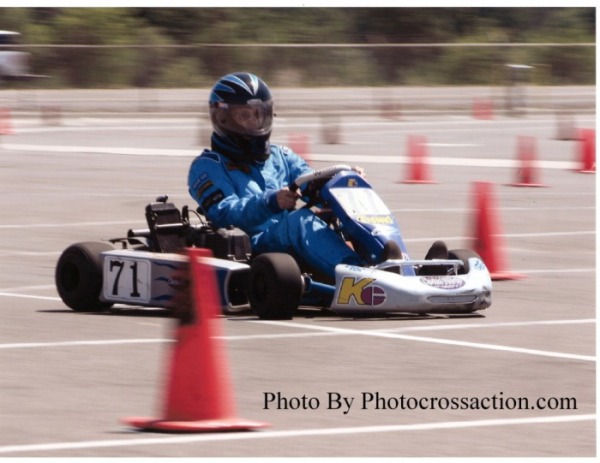 After a brief retirement from Kart racing, Keith gets the kart out on the autocross track. I had nothing else to drive!
---
2009 Goodguys show, Pleasanton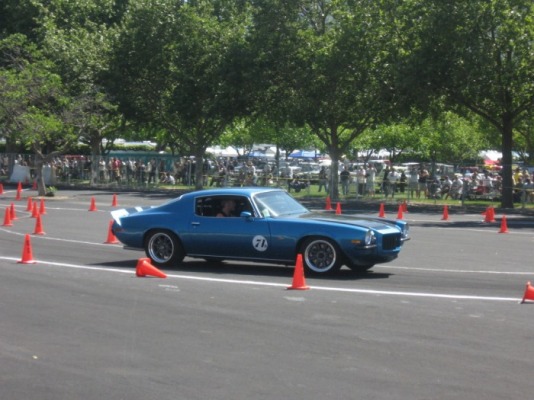 Keith Blazing the Custom Works Camaro around the Good Guys course. The last event before the motor died.
---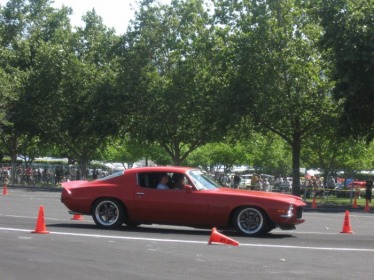 Mary Pozzi giving Keith some much needed pointers around the "bull ring". Pleasanton Good Guys showed that 2nd Gens were to be reconed with. Mary killed the competition in first, while Keith finished 4th overall. Not bad as over 100 cars competed that weekend.
---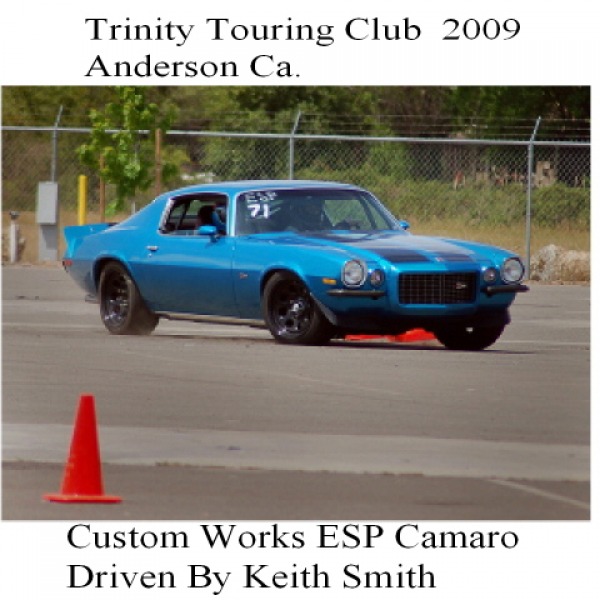 Monterey Historics 2009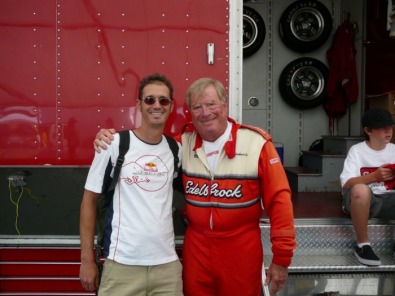 Keith with the great Vic Edelbrock Jr. Vic is a great man with some sweet race cars, and always up for a little bench racing
---
2009 World of Outlaws Gold Cup, Chico Ca.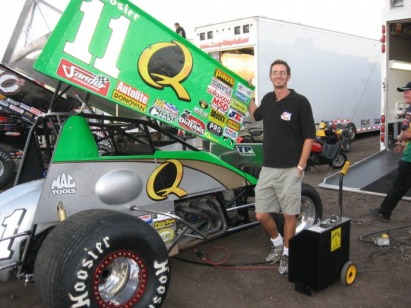 I asked, but the "King" Steve Kinser decided it was a good idea that he drove the #11. I guess my reputation is bigger than I thought. In hind sight maybe i should have driven the car, better luck next year Steve. Proof old guys kick A$$
---