Suspension Parts-
We offer best bang for Your buck
See Product video tab for more info
2G Kit- this is where to start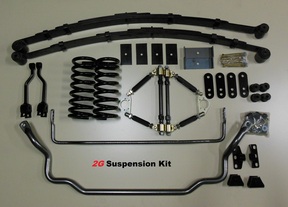 Kit Includes: front coil springs, rear leaf spring kit with bushings and shackles, HD front sway bar, rear adjustable sway bar kit with bushings, and adjustable upper control arms. Kit- $1625
This kit is intended for street use, but has been extensively autocross and track tested for those wanting to do more with their 2nd Gen, this is a very streetable set up!
The kit when ordered in its entirety is a approx a 10% discount over individual part pricing
---
2G Kit add-ons and upgrades
Shocks- not included in kit we offer 2 choices based on budget
2G shocks-$75 each Designed to work with our springs, good value and performance

Koni Red adjustable- $119 each rebound adjustable, best performance and best ride quality


Upper ball joints- Tall $99pr. Improves front end geometry to keep tire planted in corners, standard $59pr.

composite leafsprings- $379 upgrade from steel, reduced weight and better ride,

HD delrin shackle bushings- $69 -we recommend these in upper frame location for better stability

Delrin Lower control arm bushings- $175 - rebuild your stock lowers with these, the best bushing out there!

Steering kit- $289 Includes high quality tie rod assemblies with billet connecting sleeves, center link, and idler arm.



Front End Rebuild Kit- Complete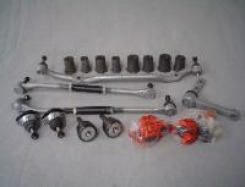 Kit w/ OE style rubber- $399


includes upper/lower control arm bushings, inner/outer tie rods, tie rod sleaves, upper and lower ball joints, center drag link, and idler arm. if ordered with upper a-arms kit is discounted $50 and doesn't include upper ball joints or bushings
this is one of the best deals on the planet, and includes quality replacement parts. If you want better performing bushings, upgrade to our Delrin ones below! Includes billet adjuster sleeve with kit!!

Steering kit- Inc center link, idler arm, tie rods, and billet adj. sleeve $289
---
Tubular control arms by Global West
Global West Control arms offer the finest construction and top performance of any control arm on the market for . The upper arms feature greasable delrin style bushings, revised geometry, billet cross shafts, and include ball joints. The lowers feature revised geometry and added clearance for better turning radius and tire fitment, delrin style bushings, heim joint sway bar end link, and ball joints. All arms feature D.O.M. tubing and black powdercoating, delrin style bushings, with ball joints installed. Coilover lower arms do not have a spring bucket, which allows easy access to your shock adjustment knobs and changing ride height.


Uppers control arms- $599 add $29 for billet ball joint cover as pictured


Lower Control arms- $699 Choose standard coilspring style or coilover specific arms



Adjustable Upper Control Arms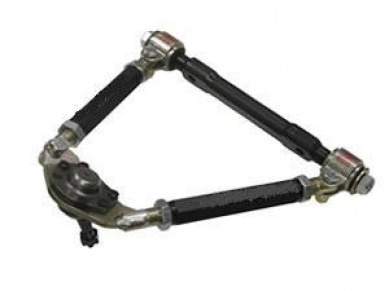 These arms offer adjustability that no others on the market can offer. These arms can be adjusted without being removed, to achieve the geometry you require. Aluminum adjustment sleeves make these arms light and strong, yet still street worthy. They feature greasable DELRIN bushing for long squeak free performance. We have these for 67-69 F-body, 70-81 F-body, A-body, and G-body. Made in USA!
70-81 Camaro/Firebird $389 pair
67-69 Camaro/Firebird $429 Pair ***fit 68-74 Nova**
add $59 for standard ball joints
Add $99 for low friction tall ball joints
---
Lower Control Arms

SPC Lower arms Feature a unique tubular and fabricated construction. These arms are great for Coilover and coilspring fitments, these come with ball joints and Delrin Bushings, and have caster built into them for better wheel fitment! These are priced well and made in the USA!

70-81 Camaro/Firebird $585 Pr

67-69 Camaro/Firebird $575 pr
Front Coil Springs- 2G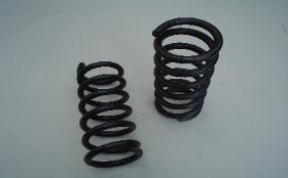 From Street to track we have the RIGHT spring for you. Call or email for application, picking the right spring is important, these springs are Street springs that CAN be used for track or autocross!

2G Spring Set Small block/LSx $179
2G Spring Set Pontiac/Big block $190

2G Springs lowers ride height approx. 1.5-2", Big Block springs can be used in cars for less of a drop. See bottom of page for ride height measurements.


---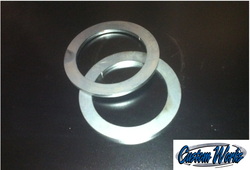 Spring spacers can be used to raise your vehicle. These spacers when installed at the top of your coils will gain you approx 3/8- 1/2" in ride height.


$18 pr. One pair raises car 3/8- 1/2"
---
Rear Leaf Spring Kits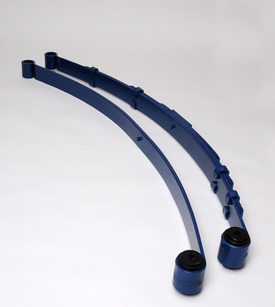 Rear leafs to match our front coils. Let us help you make the right spring choice. Our Steel leafs include liners between the leafs to reduce friction and give smoother ride and better traction. In many cases our heavy duty leafs will eliminate the need for an added traction device. All Steel leaf spring kits include a heavy duty adjustable ride height shackle kit and bushings(see pics below). Our Composite leafs improve ride quality, add stability, less bind, and remove about 50 POUNDS!


70-81 2G street/autoX $479 Kit pair $289 pr. leafs only
70-81 Comp race $489 Kit pair $299 pr. leafs only
70-81 Composite $325 each ****New**** leafs only

**Leafspring kits now come with our comp leaf locators standard!



---
Matched Front and rear Spring Sets
Buy a complete set and save more, includes coils, leafs, leafspring bushings, and HD Shackles, U-bolts, comp leaf locator, everything to replace your springs! for ride height info see bottom of page
2G Spring Kit $649 (add $375 for composite leafs) Save $25 over individual price!
True Coil Over Conversion kit
Our Coil over conversion kit is a "true" coil over conversion. Our kits feature quality Viking double adjustable shocks, or Ridetech single adjustable shocks and various spring rates to suit you needs. The conversion brackets are laser cut, and fixture welded to ensure a nice fit. Some cutting and welding is required for installation. Instructions included. Ride height can be adjusted in a range of 3" to get the stance or weight balance you are looking for. Set up weighs about 30 pounds less than stock. Can be used with stock or aftermarket lower control arms, and most tubular upper arms. Includes Shocks, springs, and conversion brackets.


Kit w/ Viking double Adj shocks $719 Matching Rear shocks $189 ea.

Kit w/ Ridetech single adj shocks $749 Matching Rear shocks $199 ea.

Lower mount reinforcement plates (for stock lower arms) $20pr
Bolt On Coilover kit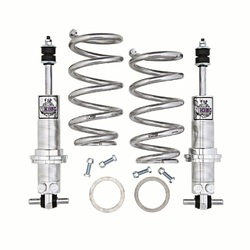 Bolt On coilover kit features the same tough aluminum double adjustable shocks as our "true Coilover" kit. This kit is for those who do not have the fabrication skills or do not wish to modify their chassis. While their are others offering this type kit on the market, we offer it with the correct rate springs, and a bearing mounted lower mount. Other kits have polyurethane mounts supporting the weight of your car.

Bolt on Kit $599

matching rear shocks $189 Ea.
---

4 Link Rear Suspension and Coilovers
---
Ridetech rear 4-link suspension w/coilovers. When you outgrow leafsprings, this is the next step. This set up will give you more grip and better handling, and when mini-tubbed, more room for tire! We offer these in the single adjustable shock configuration and include coilsprings. This is a relatively easy installation, with minimal modification to the car. All brackets must be welded to your rear end. We also offer these shocks for the front to match!

Rear 4 link kit w/ single adj ridetech shocks- $1950

​front coilover conversion w/ matching shocks- $750

Full Ridetech level 2 kit, includes above, as well as upper/lower control arms $3850 (pictured above)
---
Adjustable rear Sway Bar
Our rear sway bar features multiple endlink mounting points to change the stiffness or rate of the bar. This is a great tuning device. Includes HD strut bars. Mounts in stock location. (some early cars will need to weld an upper mount to the frame, late 2nd gens all have sway bar mounts) This is a must have for tuning your suspension!
$299 kit as shown above fits in factory location
---
Front Sway bar Kit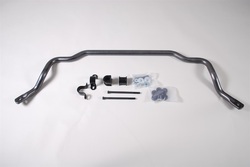 Our front sway bar kit is designed to work best with our matching rear sway bar kit, along with the other components of our 2G suspension kit. Our sway bar offers a slightly higher rate than the factory 1.25" sway bar for better stability


$199 Kit includes bushings and hardware
---
Comp Axle Pad/Locator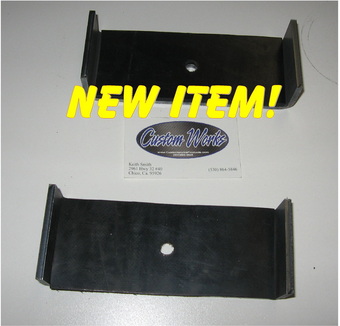 These are a must for any hard driven car. These replace the spongy rubber leaf pads, and use a steel locator to ensure the rear end stays in place. The kit includes thin rubber isolator pads to keep down suspension noise. This kit is a must when using pinion angle shims (sold below) Adding pinion shims corrects your driveshaft angle that has been changed by lowering the car. Use this with delrin Shackle kit for best results!

Comp axle locator kit- $49


Above w/ pinion correction shims- $60--best way!
---
Lower Control Arm Bushing Sets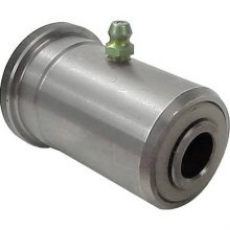 Delrin Bushings- $175 Lower set specify year- best bushing to use!

Steel Bushings- $99 similar to Delrin ones, uses steel bushing instead of delrin.

Rubber Bushings- $45 Use these when on a budget, NEVER use Polyurethane!
---
Delrin Comp rear shackle kit- Must Have!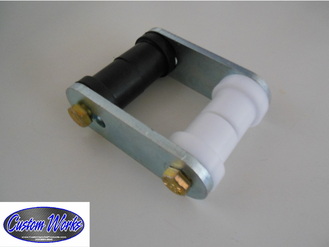 These bushing are made of Delrin for zero deflection and smooth bearing like movement. The heavy steel inner sleeve helps the shackles from moving side to side even further, and prevent the shackle from being over tightened. reducing rear lateral movement helps the cars stability and makes handling much more precise and predictable. Kit also includes our HD adjustable shackles, which allow you to raise rear of car approx 1/2" if necessary. For All applications we recommend using the delrin in the upper frame location, and rubber in the lower location.


$159 kit, upper delrin bushing kit, Rubber lower, HD shackles and bolts- best way

$69 per pair-bushings only (1 pr. does upper shackle location in frame)
**doesn't fit Chrysler style leafsprings
$69 HD adjustable shackles (shackles only- includes bolts)

$5 ea Rubber bushings- designed to work with our delrin and used in lower leafspring eye. (shown in black)





---
Why you need delrin shackle bushings- watch below
Top video is before, bottom is after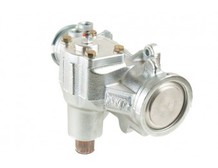 Pro-touring Steering Box This box is made from ALL new parts and features improved firmer valving, plated finish, and billet top, 12.7:1 ratio. Requires rag joint to convert 70-78 cars. Uses metric O-ring fittings, we offer several hose and pump solutions for these. One of the best improvements you can make! No more rebuilt junk boxes!

Steering box $495
rag joint $75

o-ring Hose kit $60
---
New Aluminum Type II pumps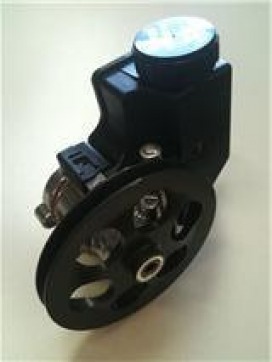 These pumps are just what is needed for the rigors of todays performance. Your old Saginaw pump just isn't up to the task of the stress of aggresive alignments and fast ration steering boxes. They run cooler. They come with either a billet aluminum V-belt or serpentine pulley. Pump will require bracket below, not included. Integral composite reservoir included for a clean installation that runs cooler than a remote reservoir. See below for picture of pump installed


Type II pump $209

V-belt pulley (shown) $49

Serpentine pilley $49




---
Powersteering Bracket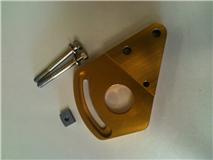 Here is the bracket you need to correctly mount you new style Type II power steering pump to your small block Chevy engine. Available in Block or head mounted versions, bracket is made from billet aluminum and mounts to drivers side of engine, long water pump See below for picture of pump installed

Type II Pump Bracket $69 (specify block or head mount)
---
Power Steering lines
​

We can make you custom configured lines to suit your pump and box, pressure lines are high pressure stainless braided, and can be made with 90* or straight AN ends. Return lines are made from high pressure pushloc style hose and AN fittings

Pressure hose- $59

Return Hose- $44 (Add $6 per foot over 2' for custom hose)

**If you run a cooler we can custom make a return line, specify length of hose needed.

Fittings from box to AN- specify std or metric O-ring - $28 pair
2G Kit Spring Height installed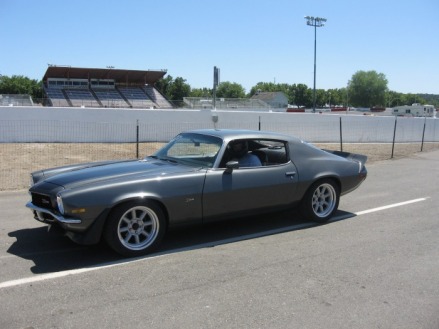 Standard 2G spring kit will drop ride height 1.5-2" from stock, depending on year, model, and vehicle weight. On early Camaros top of tire usually sits 1/2" from fender lip, with slight rake in front as pictured above. Cars with tires wider than 255/45/17 may experience some minor rubbing. Firebirds can usually run a slightly wider tire, due to the rounder wheel opening. A typical measurement of our ride height can be take from the center of the wheel (hub) to the center of the wheel arch opening straight above. Typical measurements will fall between 13-13.5" front, and 13.5-14" rear for small block powered cars
---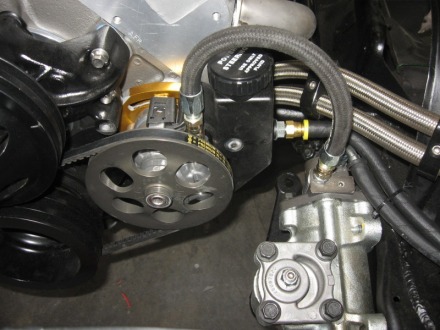 Type II Aluminum pump and block mounted bracket on small block Chevy. Note Braided line used for pressure hose, we have those too, $30 in black or stainless braid, with AN fittings. Return line we recommend AN to barb hose fittings, and low pressure line. We can also make custom lines for your application
---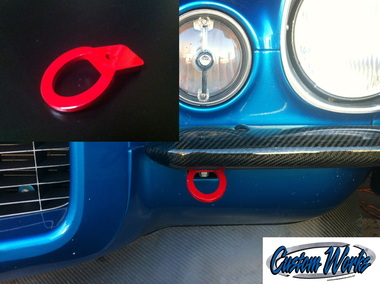 Tow Hook Don't get caught with out one!


$25 each front
​$35 each rear

---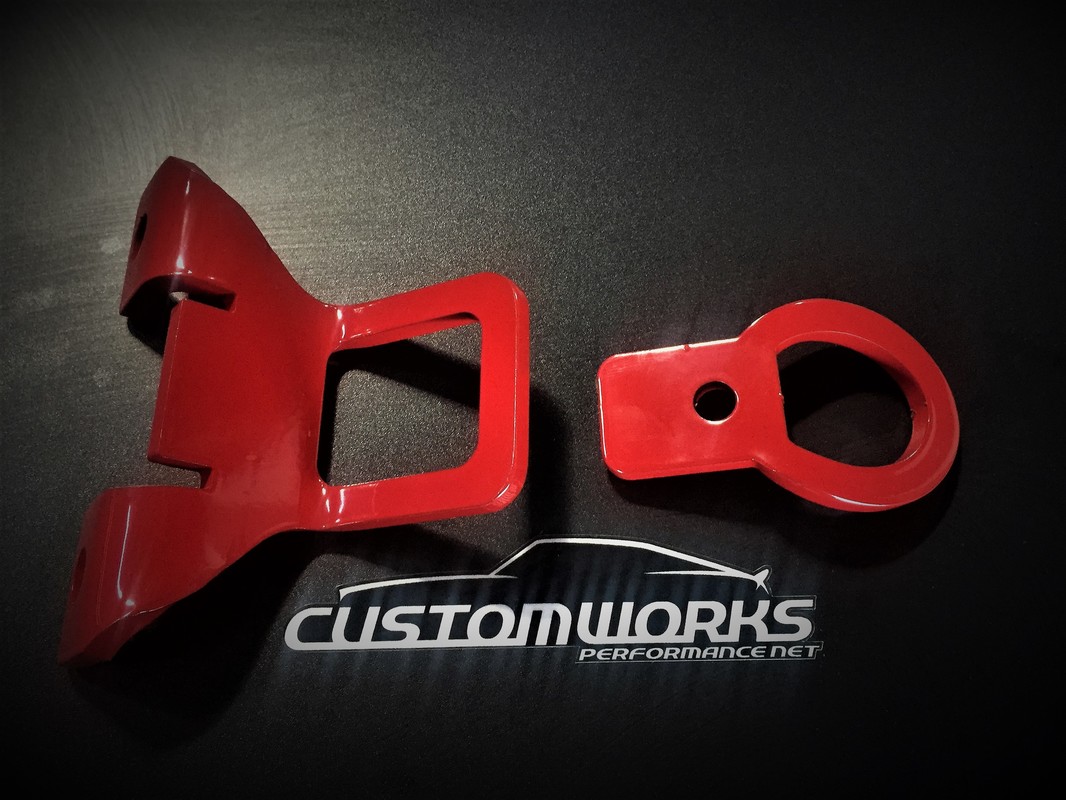 If you don't see it just ask. We are authorized dealers for other suspension suppliers and manufacturers as well. We have sold and tested most of what is on the market today and feel our current offerings rival anything on the market for performance and value.
Custom Works (530) 864-5846
email contactus@customworksproducts.com
Come Join Us On Facebook!